Zemax (.ZMX) files can be imported into RayLab. Full 3D files can be imported if RayLab's 3D Modeling module has been enabled. In 2D, the Zemax importer works for axisymmetric systems or systems which are restricted to x-z plane.
The STANDARD, COORDBRK, EVENASPH, FRESNELS, and DGRATING Zemax surface types are recognized in Sequential models.
The Standard Lens and Elliptical Volume elements are recognized in Nonsequential models.
Glasses are loaded by name and any unrecognized glass is replaced by Custom glass.
From Mail App
If the Zemax file is a Mail attachment, tap and hold the attachment until "Open In RayLab" option appears.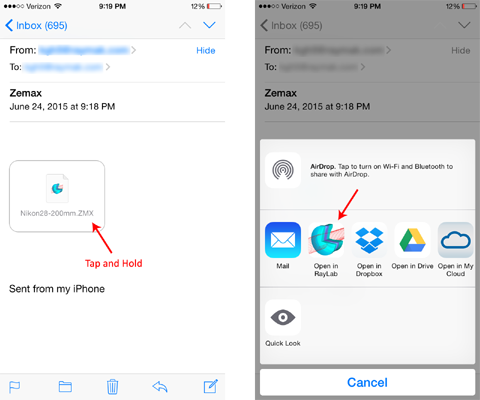 From Dropbox App
Alternatively use any file management App such as Dropbox, Google Drive, Documents, etc. to transfer the file to your device, then select the "Open In RayLab" option within that App.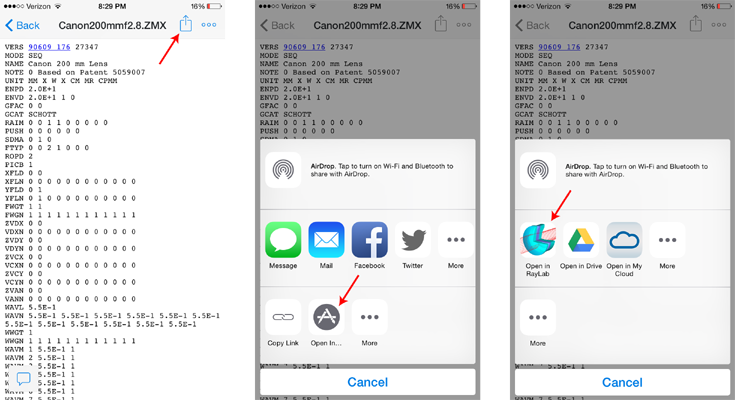 Many other file handling apps have a similar mechanism to Dropbox depicted above.